Ultherapy Treatment
A Non-Invasive Skin Tightening Treatment
Ultherapy is the next evolution in aesthetic science. It is a non-invasive treatment, that goes deeper to stimulate production of your body's own collagen and elastin, for natural-looking results without surgery or downtimeIt delivers focused ultrasound energy to the same foundational layer typically addressed by surgeons during cosmetic surgery – without cutting or disrupting the surface of the skin. This energy initiates the body's natural response to stimulate the growth of fresh, new collagen and strengthen weak collagen. There is minimal discomfort in this procedure!  We ensure you know are fully informed of potential discomfort and will be supportive and proactive in managing any pain or discomfort you may experience. 
Some patients see an initial effect right after their treatment, but the real results appear over 2–3 months as new collagen builds, gradually lifting and tightening skin on the face and neck and smoothing skin on the chest. 
ULTRASOUND, NOT SURGERY
Ultherapy relies on ultrasound therapy to go deeper than other non-invasive treatments for collagen stimulation. 
FDA-CLEARED FOR LIFTING
Only Ultherapy is FDA-cleared to non-invasively lift skin on the neck, under the chin, and on the brow—and also improve lines and wrinkles on the décolletage.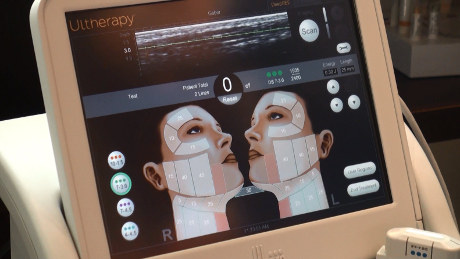 A NON-INVASIVE PROCEDURE
For those who are not ready for a surgical facelift, Ultherapy provides proven results in a single treatment for most patients. Learn how to treat your loose skin without surgery, without impacting the surface of your skin, and without downtime
REAL PATIENTS TREATED WITH ULTHERAPY
The Nonsurgical Lift
Results are individualized. Videos and content are for educational purposes only. Inquires about treatment options should be discussed with your Health-Care Provider